QIC:

Uncle Sam and Cornhole

When:

02/03/2018

Pax: Atticus, Bonsai, Cornhole(Q), Flat Tire, Long Shanks, Oz, Polaroid, Pusher, Quack Attack, Shady, Sir Topham Hat, Sugar Daddy, Uncle Sam
Posted In: The Fort
Neighbors and police were alerted of a suspicious shadow dropping off cones and a dangerous-looking gray mass onto dark, empty parking lot and then driving off to meet with CEO-looking PAX at Walter Elysha. YHC started giving the disclaimer but Site-Q Bonsai felt insecure about Latino accent and wrong use of words so he took over and messed it all up.  FNG was very confused and the rest, embarrased.
Warm-up
Mosey on running track swinging some Buttkickers (Site-Q alerted YHC that A**kickers is a curse word), high-knees and uphill Karaoke.
Once in COP: SSH – Windmills – MNC – Squats – Doggie paddles – plank and 6-inch keeping mississippi count.
The Thang
PAX were asked to perform Bearpees along ten trees.
-Nine???  Someone complained.  -How do you expect us to bearpee eight trees? There's no way I'm gonna bearcrawl seven trees.
But in the end pax overcame and did all six trees as originally requested.
Mosey to parking lot next to lady who doesn't like PAX screaming.  Backwards uphill climb.  At this point attempting to do the pain stations seemed pointless since most PAX were out of breath, so YHC simply introduced the BeachBall (see pic), which PAX bounced around like infants.  LBCs ensued while rotating BeachBall and then the ArmWrestlingRollingCarousel (patent pending) was introduced:  PAX lay flat on their bellies facing each other in two rows, and arm wrestle in manly tension while one reads theme verse (Isaiah 41:10). Then one row rolls over and faces next contendor while new PAX reads verse.  Rinse & repeat until all have read verse (arm switch when first row is done rolling).  Of course, Long Shanks arm-wrestled two at a time in an audacious display of arrogance.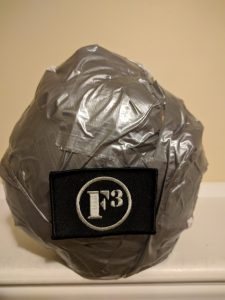 Co-Q Cornhole took over at this point with what was left of PAX, but mercilessly had all bearcrawl downhill on reenactment of Civil War battle but with pinecones.  People's Chair for all while two PAX graciously jumpjacked  with the sunrise behind, silhoueting the too much barBQ from the night before.  Deconstructed Burpees took everyone by surprise and there was a lotta groaning and destructive chatter.
Derkins, step-ups and dips brought joy back to brave PAX.
Then alternating pull-ups, step-ups and laps around kiddie park.
ABS
Ab-lap where Atticus over-underperformed, making Pusher blush, but he claimed him as Q-school disciple all the same.
FNG was interviewed an named Oz, but YHC missed out on all the cultural references.
PAX were encouraged to not be anxious and prayers were lifted up.
2nd F at Peach Stand in support of community business.  A joyful moment.