QIC:

STH and Zima

When:

08/25/2018

Pax: Cyclops, Dark Helmet, Fishsticks, Gears, Lil'E, Maximus, Mr Clean, Rugburn, Sir Topham Hat, Spiderman, Trucker, Uber, Zima
Posted In: Alcatraz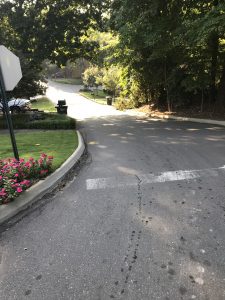 Sir Topham Hat and I were pretty excited to take on Alcatraz together. A couple or "runners" who really "enjoy" hills? What could possibly go wrong? A warning was sent on the Twitter machine that this would be hill intensive, so I was pleased to see 11 Pax show in addition to YHC and STH. It was a bit of an Alcatraz reunion of sorts with some familiar faces. We knew we needed to bring it.
STH on Q
Warm up jog with side shuffles, butt kickers and high knees
Mosey to the play area
Amrap pull-ups (unassisted), 20CDD – 3 Times
Mosey to Parking Lot
COP: SSHx20, cherry pickers x 10, Mountin Climbers x 20, Peter Parker's x 10, 6" twice
Mosey to Upper Hill for Jacobs ladder
7 burps and 1 bombjack at top.  Made it 4 rounds
Al Gore to squats (which prompted some colorful comments. Just do an Al Gore while doing squats and it'll become clear immediately.
Mosey to Wooden wall.  7 count incline merkins in cadence, flip to dips 7 count in cadence.  Flap jack 4 times #smokefest
Handoff to Zima
Zima on Q
Mosey to Parking Lot
25 SSH IC
17 Something I can't remember IC (I blame it on being light-headed)
Mosey to Middle of Parking Lot for Suicide Burpees (5 burpees at baseline each time running to 3 increasing suicide targets)
Walk 20 yards back for 10 hand release merkins at baseline with 4 suicide series targets
Walk 20 yards back for 7 bombjacks at baseline and 5 suicide series targets
Go to field for 4 corners
Corner 1 20 Monkey Humpers IC
Corner 2 20 Walking Lunges IC
Corner 3 20 Monkey Humpers IC
Corner 4 15 LS Squats IC
Run to short steep lower hill for 5 Min Quadzilla (insert copious amounts of complaining herre)
Mosey back to parking lot for 5 mins Pax Choice Mary
Finish with double 10 count body destroyer
All in all it was a pretty good smokefest. Everyone pushed their limits
NMM (here are our notes)
STH is super fit but bailed for Zima Q (cited family commitments)
Fish Sticks = #King #WarDaddy
Great mumblechatter this AM
Maximus is a beast and smiles through the entire workout like "Is that all you got?" Yes Max, it is.
Highlight of the morning was Dark Helmet's commentary on STH's Al Gore Squats #graphic #hilarious
A couple of Pax almost got laid out by a Buck (Deer) that didn't see them and then shot off across the street
Quadzilla is still a crowd pleaser (esp. when you add a minute)
For all the comments about being out of shape, Gears seemed to be towards the head of the pack
Glad to see half the team of "Beauty and the Beasts" support us
Prayer, Praises, Announcements
BOM on Zima
Thanks for the opportunity to lead Smuggler! Keep me in the rotation.
Zima Out!