100% chance of rain and one of the first days of this winter with temps under 40 degrees.  The weinke was designed to accommodate 12-14 PAX, but YHC was expecting 4 tops.  Cars filed in and we had 7 hardened men ready to start their day off right despite less than favorable conditions.
Standing in the rain, we went over the disclaimer and took off running toward the covered drop off circle.
Warm-up:
Windmill X10
Merkins X20
SSH X30
Wide Arm Mountain Climbers X20
Power Planks X20
The Thang:
Partner up and work through the six stations with 4 minutes per station.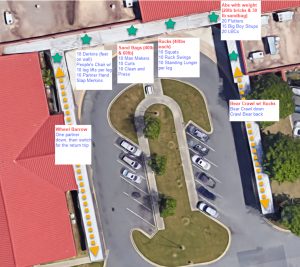 It was wet and cold, but the work was done.  Great work by the PAX that braved the cold November rain.