QIC:

Old Bay

When:

05/17/2019

Pax: Anchorman, Barry Manilow, Bounty Hunter, Bubba Gump, Culture Club, Curious George, Full Count, MOAB, Old Bay, Pusher, Rebel, Senator Tressel, Spud
Posted In: Slow Burn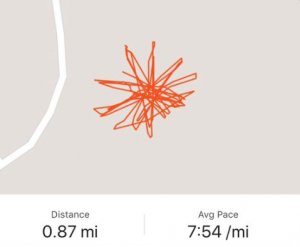 Great morning for a workout!  13 pax posted (no new guys). The disclaimer was issued and we bolted out of the Chick-fil-a parking lot, Pusher style.
We ran past BP in front of Jimmy John's for a bit of COP warm-up:
SSH
Imperial Walkers
Mountain Climbers
Merkins
Windmills
Morning Wood, OYO
The Thang
We then ran down to the parking lot in front of Empire and found 12 cones spread out to a large ring.  Time for a burning ring of fire.  Each pax was to start at a cone, doing the exercise (and count) written on the cone.  Once done, they were to run across the middle, around the cone on the opposite side, then back to the middle and plank up for 10 seconds (the non-modified version does cinderblock burpees – yuck!).  After planking up , the pax runs to the next cone.  Rinse and repeat until all 12 cones completed.  Pax were encouraged to pair up.  YHC struggled to keep up with MOAB.  Here were the exercises, in no particular order:
10 Monkey Humpers (4 count)
10 Hello Dollys (4 count)
7 Burpees
10 Merkins (single count)
10 SSH (4 count)
10 Mtn. Climbers (4 count)
10 Bombjacks
10 LBCs(4 count)
10 Plank Jacks (4 count)
7 Morning Woods (turkish get-up)
10 Box Cutters
10 Seal Jacks (4 count)
Once completed, we moseyed to a nearby wall for a little People's Chair:
Round 1 – one person at a time jumps out and does 2 burpees
Round 2 – Jack Reachers (10x)
We ended with Jack Webbs.  But wait!  We got to COT with 2 minutes to spare so we did a few ab exercises.
Great work by all!  Thanks to Hootie for the opportunity to lead!
Keep it spicy,
Old Bay