QIC:

Boeheim

When:

04/15/2019

Pax: Barney Fief, Cake Boss, Cyclops, Double D, Dungaree, Fishsticks, Funhouse, Hootie, Mich Ultra, Seuss, Sir Topham Hat, Twister
Posted In: Flight Plan, The Fort
What a great morning for a run around Wally World! Cool air and a nice breeze countered the 100% humidity for a comfortable loop of a tried and true Flight Plan classic. The numbers were low by current standards. That can be attributed to 3 things; 1) No looming CSAUP or road race; 2) Some regulars having participated in Charlotte Race Fest 1/2 marathon this Saturday and 3) Spring Break!
The last on the list allowing for a few of the PAX to have an impromptu coffeteria while M's & 2.0s were tucked snuggly in their beds. A nice cameo from Tesh as we enjoyed our Starbucks. Tackling all the worlds' problems and comparing who had a better SOI, Twister or Double D.
Annoucnments:
AKAY2 led by Funhouse continues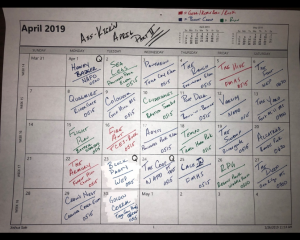 Canoli Run – May 18th – https://runsignup.com/Race/SC/FortMill/SPNCannoli5kRunAndFamilyWalk
Prayer Requests:
Safe travel for all PAX going bi-coastal for Spring Break
Hootie's Mother In Law for biopsy results that will be received today
Will – Friend of Cyclop's M who is going into rehab
NMM
For me right now, all is good. I'm not saying I have it all figured out but I know that I'm blessed. I've got some time off from the students but that honey do list is long for my Spring Break. So I'm making sure I get this out quickly.
See you in the gloom,
Boeheim