QIC:

Bones and Old Bay

When:

09/11/2018

Pax: 38 Special, Bones, Cheddah, Copyright, Dark Helmet, Drummond, Falcon Crest, Festifun, Fresh, HeeHaw, Hootie, Husky, Main Frame, Manifold, Nasa, Old Bay, Punch List, Ruxpin, Spiderman, Two Ferns, Wegmans, Zima
Posted In: Golden Corral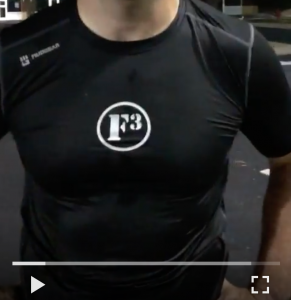 School was back in session at Golden Corral for the 2nd week of "September Q School".  Bones and Senator Tressel were the originally scheduled professors.  However, due to Senator being on the IR, YHC was called in as a substi-Q teacher.
14 pax posted for 2nd of two workouts covering 101 material.  An additional 8 pax went their own way with their black backpacks (likely not filled with textbooks).  NASA and TwoFerns brought out FNG, later to be named "Ruxpin".
Bones kicked us off with a mosey around the parking lot with some high knees, butt kickers, Karaoke, and lunges.  Circling up for COP, he shared advice and wisdom on exercises that are simple and keep pax together. We did a few minutes of COP warm-up, with some exercises called out (and lead by) by pax that hadn't Q'ed before (or only Q'ed once):
Windmills
Cherry Pickers
Moroccan Night Clubs
Seal Jacks
Slow Low Squats
Peter Parkers
Side Straddle Hops
Carolina Dry Docks
Mosey over to a different part of the parking lot where Bones emphasized that "simple" doesn't mean "easy", and that partnering up helps hold men accountable during the exercises.  We each partnered up for the next exercise event. All of the following were done with your partner, not switching off, like some lazy pax (or maybe just YHC) were hoping for.
10 Merkins
Lunge across small lot
10 Burpees
Bearcrawl back
10 LBCs
Rinse and repeat 4 times.
Hand off to YHC.  We took a couple 10 counts and moseyed to the parking lot behind the shopping center.  I discussed a bit about how pax will follow and trust the Q until they have reason not to.  Trust can be broken by putting pax in dangerous situations.  Trust can be built by showing effort in planning.
Next up, Rugby Sprints.  Two sets of cones were set up about 30 yards apart.  Pax were instructed to perform exercises (together) until Q called out "GO!".  At that point, pax were to sprint to the other cones, sprint back, then recovery walk back to the other cones.  Rinse and repeat as time allowed.  Stationary exercises we did where:
Merkins (in cadence)
Overhead Claps (in cadence)
Crab Cakes (in cadence)
Mosey back to COT.  Along the way we discussed the importance of promoting your Q via Twitter and documenting it afterwards via BackBlast.
T-claps to FNG Ruxpin for not only posting, but making his first post a Q school! With a Q school now under his belt, he should be ready to lead workout in no time.  Also, great work by NASA and TwoFerns for brining him out.