QIC:

Homebrew

When:

04/29/2019

Pax: (respectable) Olaf, Barry Manilow, Chop Block, Dungaree, Fish Sticks, Flux, Funhouse, Homebrew, Iced Tea, O'Riely, Peg, Shady, Speed Handle, Whitesnake
Posted In: Crows Nest
Firstly, there are no spoilers contained in the backblast. YHC had been thinking about doing a GOT themed Q for a while. When I was offered to Q Crows Nest within 12 hours of a new episode dropping, I knew that winter had come.
14 men showed up and were disclaimed. Before we moseyed, the first game was explained.
Where are my Dragons?!
PAX were told that there were 3 toy dragons (dinosaurs if we are being honest) hidden around the AO. If any man found a dragon they were to let the whole group know and everyone would stop what they were doing and complete 20 Flying Dragons [flying squirrels] OYO. If all 3 dragons were not found with 5 mins left in the workout all the PAX would have a penalty – winter had arrived early and we would all have to do rounds of Climate Change. After this was all explained, we moseyed. Before the warm up began, Peg found the first dragon. So 20 Flying Dragons.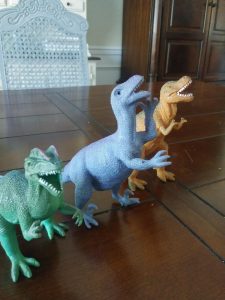 Wildfire Warmup
Lord Tyrion Leaps [SSH], Braavosi Night Clubs [MNC], White Walkers [imperial walkers], Gendry's Hammer [American hammers], Benjin Starks [ranger merkins], The Hound [downward dog]
The Kingsroad
The Kingsroad connects the capital of the 7 Kingdoms, Kings Landing, all the way North to The Wall. It actually starts at Storms End, but whatever. PAX received a raven that white walkers were marching for the Wall and they needed to journey up the Kingsroad with reinforcements, or really bad stuff would happen. The Wall was on the opposite side of a parking lot from Kings Landing. PAX had to Lieutenant Bran (he don't got no legs) there. At each pillar they passed they had to do 5 Iron Borns (Carolina dry docks AKA Pike pushups).
Once at the Wall, we needed to defend it. This entailed several rounds of Wall sits with PAX taking turns going beyond the Wall to do abyss merkins. Fortunately, for the realms of men, the White Walkers were defeated by the valiant efforts of the PAX. Flux also found the second dragon – so 20 more flying dragons. We then had to return to Kinds Landing. But as we had already found 2 dragons by this point we did not need to Lieutenant Bran – instead we did Welsh Dragons back, which was much shorter as the crow flies… though not necessarily less painful. Check the exicon; these ones are tough on the shoulders.
The Nobel Houses of Westeros
Stations were set up, each with the sigil, words, and name of a house of Westeros. There was also a corresponding exercise for each house. The lexicon came in real handy with this one. Complete station 1, run a lap. Complete station 1 again, then 2, and then run a lap. 1, 2, and 3, then run a lap… you get the idea. Here were the stations:
House Greyjoy – 3 Kraken Burpees
House Baratheon – 20 Leaping Stags (power skips)
House Stark – 10 Dire Wolves (Werewolves)
House Lannister – 20 Lion Kings
House Frey – 20 Oblique Bridges (10 each side)
House Martel – 30 Sun Gods
House Targaryen – 20 Flying Dragons
House Arryn – 3 Tony Hawk Burpees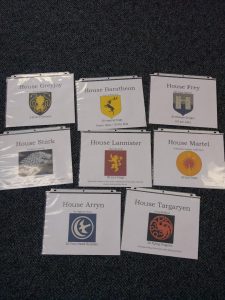 We didn't make it through all the houses before time ran out, but enough to get the sweat going. YHC also conveniently found the last dragon – sparing the PAX from global warming session, as we really didn't have time for that anyway. I may work that into a future Q. We all moseyed back to COT, dragons in hand.
This was the most fun I have had creating a workout yet. Thank you to all the PAX who came out and endured a bit of nerdy fun, especially those who were up late watching GOT last night. And thanks to Iced Tea for the opportunity to lead.
Valar Dohaeris,
Homebrew