It happens every week. I usually go when I Q because it's like 15 minutes earlier than other workouts. But I'm glad that Nomad in his effort to help those that struggle with the fartsack, keeps me in rotation.
So we ran 5.5-6.5 (see me for the 5.5, MacGuyver for the 6.5). It was a great route with some challenging hills (check Strava). Sam Smith. Harvest Pointe. Nuff said. YHC was the 6.
Oh, Cyclops had his first post at LO. The yearlong EH from STH paid off. He was there too. Thanks for the opportunity and the push guys.  Great to meet MOAB!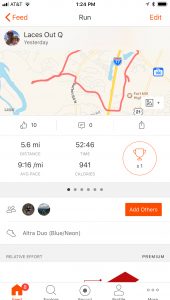 Zima Out