QIC:

Ginsu

When:

06/05/2018

Pax: Atticus, Band Camp, Bass-o-matic, Bob the Builder, Bonsai, Brick, Cakeboss, Catfish, Cheddah, Crabcakes, CSPAN, Cyclops, D3, Dark Helmet, Flash, Flat Tire, Fogerty, Fun House, Ginsu, Gobbler, Harry Carry, Italian Job, JWOWW, Kielbasa, Longshanks, Maximus, McGuyver, Offspring, Old Bay, Peg leg, Ponytail, Pusher, Rebel, Santini, Shady, Spiderman, Stang, Trucker, Twister, Weezer, Wegmans
Posted In: Block Party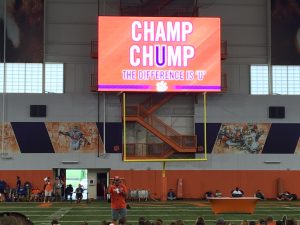 On an unseasonably cool June morning, 41 #HIMs met to get an attitude adjustment and start the day out right.
Mosey to the big parking lot on 160.
WARMUP:
20 4-count side straddle hops
Five Burpees OYO
10 4-count Windmills
Five Burpees OYO
20 Low slow squats
Five Burpees OYO
15 4-count Merkens
Five Burpees OYO
20 Mountain climbers
Five Burpees OYO
20 Moroccan night clubs
Five Burpees OYO
The THANG
Four corners in the big parking lot. Count off into groups of 4s and rotate through the stations.
Corner 1: Mosey to the bottom of the hill (160) and sprint back to the top, rinse and repeat. LBCs when done.
Corner 2: 30 Hand release Merkens. LBCs when done.
Corner 3:  40 Monkey Humpers. LBCs when done.
Corner 4: 20 Burpees. LBCs when done.
Rinse & Repeat
Mosey to the wall for 20 4-count wall mountain climbers.
Mosey back to COT….NOT DONE YET!
Captain Thors in cadence to 8 x 32.
COT
1 Corinthians 9:24 reads "Don't you realize that in a race everyone runs, but only one person gets the prize? So run to win!" Give everything you do your best effort. Sometimes, however, this requires an attitude adjustment. Be grateful for how God has blessed you and honor HIM by giving it your all. After all, the only difference between a chAmp and a chUmp is YOU!
Announcements: Hog & Coyote, Nantan Summer Tour, #218in18, Read your newsletter
Thanks for the opportunity, Shady!
– Ginsu